GenCyber Program
The GenCyber Hawai'i program provides summer cybersecurity camp experiences for students and teachers. The goals of the program are to help all students understand correct and safe on-line behavior, increase diversity and interest in cybersecurity and careers in the cybersecurity workforce of the Nation, and improve teaching methods for delivering cybersecurity content in K-12 computer science curricula.
Our vision is for the GenCyber program to be part of the solution to the shortfall of skilled cybersecurity professionals. Ensuring that enough young people are inspired to direct their talents in this area is critical to the future of our country's national and economic security as we become even more reliant on cyber-based technology in every aspect of our daily lives.
Funding: Camps are free and funding is provided jointly by the National Security Agency and the National Science Foundation.
For more information about the national GenCyber program please visit: https://www.gen-cyber.com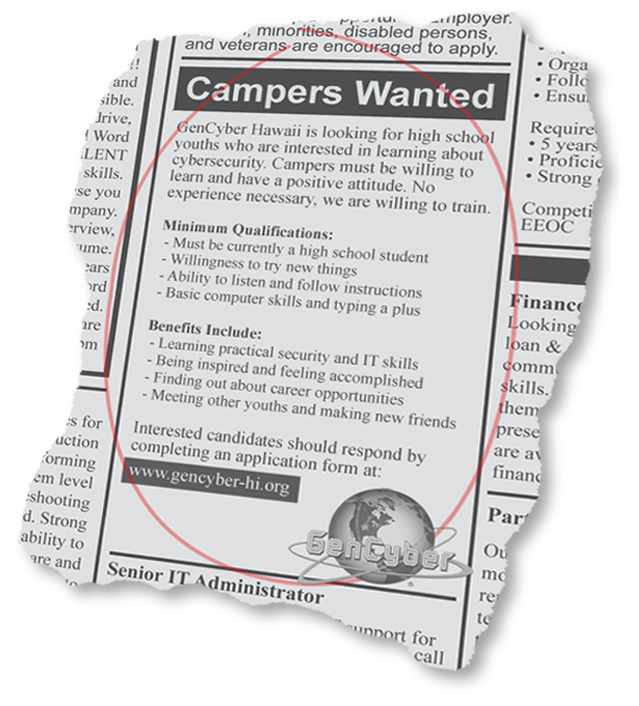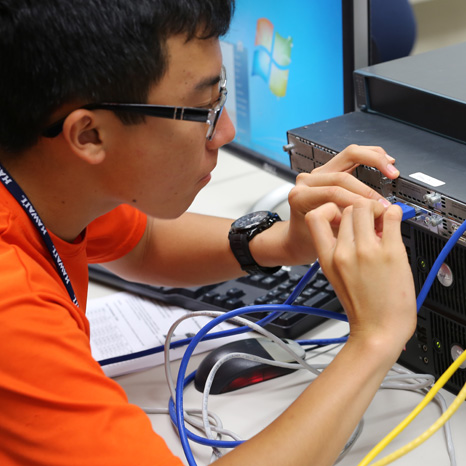 What to Expect
Campers will learn the basics of information technology and cybersecurity in a fun and comfortable setting. There will be lessons and lots of hands-on labs!
GenCyber Program Outcomes:

An understanding of the GenCyber Cybersecurity First Principles
Understanding and promoting ethical behavior and cyber safety
Basic knowledge of cybersecurity terminology, concepts, tools and techniques, and
Exposure to post-secondary educational opportunities and career pathways
Camp Topics (may be subject to change):

GenCyber Overview: Philosophy & Principles
Introduction to Cybersecurity
Introduction to Online Safety and Ethics
Introduction to Micro:bit with Block Coding and MicroPython
Introduction to Cryptography
Introduction to the Internet of Things
Introduction to Electronics
GenCyber Concepts
Availability
The property that information or information systems are accessible and usable upon demand.
Confidentiality
The property that information is not disclosed to individuals, devices, or processes unless they have been authorized to access the information.
Defense in Depth
A comprehensive strategy of including multiple layers of security within a system so that if one layer fails, another layer of security is already in place to stop the attack/unauthorized access.
Integrity
The property that information, an information system, or a component of a system has not been modified or destroyed in an unauthorized manner.
Keep It Simple
The strategy of designing information and security systems to be configured and operated as simply as possible; all systems perform best when they have simple designs rather than complex ones.
Think Like an Adversary
The strategy of putting yourself inside the mindset of a potential attacker that allows you to anticipate attack strategies and defend your systems accordingly.
GenCyber Principles
Abstraction
Abstraction is a fancy word for summarizing or explaining in a way we can easily understand. A map is an abstraction of the Earth. The speedometer on a car is an abstraction for how fast the car is going.
Information Hiding
Information hiding is any attempt to prevent people from being able to see information. It can be hiding the content of a letter, or it can be applied to hiding how the letter is delivered.
Least Privilege
One of the ways to protect information is by limiting what people can do with your information and resources. You may allow someone to read a letter, but not edit it.
Modularization
The concept of modularity is like building blocks. Each block can be put in or taken out from a bigger product. Each block has its own separate function that is interchangeable with other blocks.
Resource Encapsulation
Resources such as hardware (memory, disk drives, display screens) and system objects (semaphores, linked list, shared memory) have to be separated and used in the way they were intended.
Domain Separation
Separating areas where resources are located prevents the information worlds from colliding.
Layering
Cyber security uses multiple layers of defenses for protecting information. If one layer is defeated, then the next one should catch it.
Minimization
Minimization refers to having the least functionality of a program or device. The goal is to simplify and decrease the number of ways the software can be exploited.
Process Isolation
A process is created when a program is run. By keeping processes separated, it prevents the failure of one process from causing another to fail.
Simplicity of Design
The less complicated something is, the less likely it is to have problems. It is also easier to fix and troubleshoot.